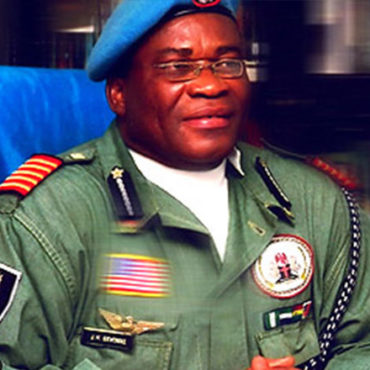 John Ekwunike
Commander General
Mr John Munachimso Ekwonike hails from Ideato south, Local Government area of Imo State. He was born on the 12th day of December 1954. QUALIFICATIONS: PHD. TH. Corner stone University/Seminary U.S.A. D.MIN, Corner stone University/Seminary U.S.A. PHD. Psycho. Marlborough U.S.A. ADV .Diploma Sports Management. National Institute of Sports Nigeria. D H. PE. Japanese (Majored in Judo/Jujitsu) Kodokan Inst. of Sports Japan. Red Sea (Marketing) National School of Salesmanship London. Dip John. School of Radio/T.V Journalism Berks, Herm. London. POSITIONS HELD IN CIRCULAR JOB Secondary School Teacher/Games Master Onyeakazi Secondary/Commercial School Obibiezenna Owerri. State Judo Coach-Imo State Sports Council (for 20 years) Asst. Manager KEMA Supplies Company Owerri. GOSPEL MINISTRY Founder/President Apostolic Foundation Ministries-Abiding Faith Assembly Nigeria (with many branches). Founder- Apostolic Community (Theological) Training School/ Seminary (A.C.T.S) OTHERS Founder-Potters House Academy Onitsha (Primary, Nursery & Creche School) Founder/Commandant General International Circle of Faith Chaplaincy Corps Nigeria/Africa. Marital Status- Married Name of Spouse- IJEOMA OLACHI EKWONIKE (NEE NGUMEZI) QUALIFICATION AND PRESENT JOB OF SPOUSE Estate Surveyor and Educationist. Managing Director- Habitation for Nigeria. Owerri General Manager New Heights Ventures. Owerri. Numbers of Children-2 SAMUEL IKECHUKWU EKWONIKE………………..U.S.A AMARA REJOICE HEPZIBA EKWONIKE………………NIGERIA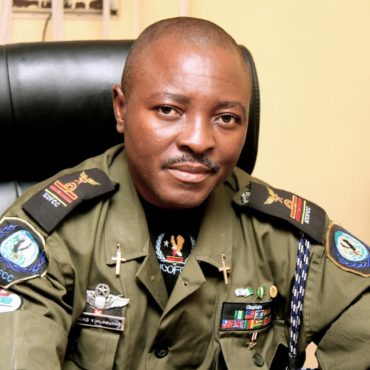 King Kinang
Nigerian Commandant
King Y.M. Kinang was the eight born out of a dozen children born to the family of Mr. & Mrs. Madaki Andekumkwe Kinang on the 16th day of August 1966 in a town call Takum , a local government Headquarter in Taraba state of Nigeria, west Africa. According to the parents the child was of a good looking, sweet in the spirit, very lively, full of energy and very adventurous. His parents are aged, retired salt, hide and skin merchants. He grew under the tutorship of his elder brother Mr. Danladi Madaki Jouro who was a headmaster of a government primary school in Donga. With this advantage of educational environment Rev Kinang enrolled into the primary school Salama Primary School in Takum (EKAS) from 1974-1979. On completion, he gained admission into a Secondary School ( Mbiya Government Secondary School ) but completed in Government Secondary School Banjiram Adamawa state, from 1979- 1984 where he obtained his G.C.E/W.A.E.C certificate. He latter proceeded to college of preliminary studies spent a year and moved onto Modibbo Adama college: the Yola campus of University of Maiduguri now Federal University of Technology Yola from 1985-1991. On graduation, he obtained a Bachelor of Statistics. During his university days social activities, student politics were a common identity with him. He has been a one time social director in the University for Gongola State student union and contested for the entire student union social director, the activities which led to the ban of unionism in the university because results were not favorable to some contestants. This led to several problems in his life, academically and financially. It is in the midst of these challenges while at home made him being invited into a crusade sponsored by his elder brother and the lord caught up with him and surrendered his life and accepted Jesus Christ as lord and saviour in 1989 and was baptized in the Holy Ghost during the same time. When he returned to school, his life was entirely change he began to identify with NIFES campus fellowship until his graduation in 1991. PROFESSIONAL EXPERIENCES By 1992 he proceeded to saint Patrick's college Asaba, Delta State of Nigeria for a one year compulsory service to the nation ( National Youth Service Corps NYSC ). Immediately after the service he was offered an employment with the Federal Ministry of Education and was posted from Lagos to Federal Government College Kano to teach mathematics on the 3rd day of May 1993.Within the period of 15 years, he rose from the rank of Education officer 11 level 8 to Principal Education Officer PEO level 12 and resigned voluntarily in 2007 because of the call of God upon his life to proceed for mission work outside Nigeria precisely Gabon. Before the compulsory one year national service, Rev kinang was serving as an associate minister with Aflame Ministries International inc. based in Ibi Taraba State. On arrival in Kano in 1993, he was ordained and licensed as a minister of the gospel with rights and privileges to perform all ministerial duties as stipulated in the Bible. As he was seeking the face of God while in Kano after reporting in his new station concerning the burden in his heart, the Lord bid him to pioneer a work in Naibawa one of the restricted parts of Kano that churches were not allowed operating until his arrival. Kano state has areas that churches are allowed and some areas that they are not allowed. In his words Rev. kinang said 'the Lord said to me I am sending you as an apostle to Naibawa, plow the land until churches come'. As earlier said Naibawa on Zaria road was one of the restricted areas for churches. He obeyed the voice of the Lord and mandate moved to the area and began the work, God confirmed his word and granted him grace. He broke through the land though not without oppositions, persecutions of different kinds. He has been brought before local authorities, kings, governor, and emir of Kano and security agencies to answer questions on his activities in Naibawa severally. In 1997 he was surrounded by hired assassins in the early hours of the day between 2:15-3:00 am in his rented apartment but was miraculously delivered by an outburst of laughter which sends a great fear upon the assassins. Seven days has he spent been held by security operatives in a condemned criminal cell at the police barrack but for great and quick intervention of some prominent Christian leaders, organizations , international bodies and NGO'S on the account of preaching Christ to some Moslems who got converted he was charged to court. On three occasions in 1998 he has appeared in court to defend himself on accusation of fermenting riot and religious inciting of the community and publishing of sponsored pamphlets against Islamic faith but was acquitted and discharged for lack of evidence. He persisted on the work in spite of all threats, persecutions in the area until churches began to come to the area as it was said to him by the Lord. As at present 19 different churches and denominations are functionally visible in the same area. In his quest to be IT compliance ,versatile Rev .Kinang applied and was offered admission for a post graduate diploma in information technology in a world renowned institute of information technology campus of Hands on Institute Of Information Technology based in Kano. On completion in 2007 he obtained a post graduate diploma certificate in information Technology with distinction. And in 2009 he obtained his Masters of Theology from World Outreached International Bible College Riverside, California USA. He is currently running a course Doctor of Ministry ( Power of Reconciliation) in Bakke Graduate University Washington DC USA. Rev. Kinang after resigning from teaching mathematics in Federal Government College Kano continued to give pastoral care to the ministry : Favoured & Prevailing Ministries aka Household of Favour Assembly Worldwide he founded in kano since 1994. He is the senior pastor of the ministry with three other pastors, his wife inclusive. He is currently championing an independent mission work in Cameroun, Congo Brazzaville and Kinshasa. He speaks French but more fluently in English, a prolific writer few amongst his books are : The manifold favour of God, The leader, the lead and the led, Building according to the pattern, The challenge of Mission work in the present day church, A good Christian soldier of Christ. Rev. Kinang is married to a lovely wife Queen Morenike Y. Kinang, a pastor, a banker, a conference speaker, a writer and founder of Helpers of Destiny Ministries, an outreach to women, teenagers, children, and singles. She has also been involved in the vision God committed to the husband keenly and passionately. She is also a chartered chaplain in the Kano state command. The Lord has blessed them with three God fearing children that are very cooperative in the ministry work: Michael, Tabitha and Angela. Rev. Kinang was enrolled into the International Circle Of Faith chaplaincy corps (ICOFCC) as a ministry tool in 2009 to enhance his mission work in different parts of the world. He is currently the Nigeria Commandant from the north and the pioneering Commandant of the ICOFCC Kano State Command.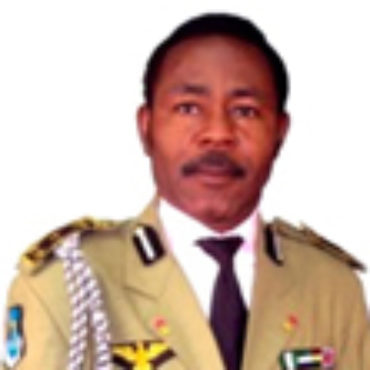 Dr. Ajero Patrick
Dr. Ajero Patrick hails from Umuoma Onicha- Ezinihitte, Local Government area of Imo State. He attended his primary education at St Mary's RCM School, Amaekpu, Isiala Ngwa Local Government from 1957-1963. He later moved to Mbaise Secondary School, Aboh Mbaise from 1964-1970 where he completed his Secondary School Education. He attended University of Ibadan-Ibadan from 1972-1976 where he obtained BSC with Second class honors upper Division in Geology. POST GRADUATE EDUCATION (a) Remote Sensing Training Center (Quagadougou) Burkinabe, Burkina Faso May- Sept 1979 Qualification obtained- Certificate (b) Institute for space surveys and earth sciences, Enschede. Te Netherlands from 1982-1985 Qualification Obtained: Two Post graduate Diplomas in Geological Surveying. MSC in Structural Geology for mineral exploration and remote sensing application. Religious Training: Word of Faith Bible Institute (WOFBI) 1986-1987 kaduna. PROFESSIONAL EXPERIENCES (a) Senior Geologist in the geological surveys of Nigeria Federal Ministry of Mines and Power from July 1977 to Sept 1987. (b) Management Staff in Faith Liberation Hour Ministries- Kaduna (1) Director of Research and Development. (2) Director of Administration and Finance. (3) Director , Word of Faith Bible Institute Kaduna, Sept. 1996. (c) Current Engagement: Pastoring and Teaching. PIONEERING PASTOR: ROYAL GOSPEL ASSEMBLY, OWERRI. Family: Married to Patricia C. Ajaero Since January, 1982. Children: Prince Chide Ajaero – Son. Peace Kelechi Ajaero – Daughter.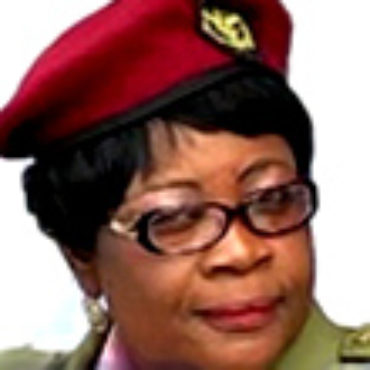 Mrs. Adeze Chinyere Ngumezi
Mrs. Adeze Chinyere Ngumezi hails from Imo State. She attended her primary education at Girls Secondary School, Egbu Owerri Imo State from 1970- 1971 She later moved to Santa Rosa Jr. College Santa Rosa California U.S.A. from 1964-1972. OTHER EDUCATION QUALIFICATION INCLUDE: (a) M. Ed in Community Health Education. Temple University. Philadelphia Pennsylvania U.S.A. 1979-1981 (b) B.Sc in Health Education Western Connecticut State University Danbury Connecticut U.S.A. 1976-1979. PROFESSIONAL EXPERIENCES (a) Project Manager of the Contract between State Ministry of Health, State Radio and TV Broadcasting Services and Hopkins University Maryland U.S.A. (b) Conduct Seminars/training at grass root levels, used to create awareness on various programs. (c) Implemented promotional campaigns to Lunch various Community health program. These include, creative planning, and design of posters, flairs, IEC material on Family Planning etc awareness seminars, numerous meeting to collect information. (d) Successfully co-ordinates activities with state T. V and Radio programs on World Health Days celebration every-year. (e) State Co-ordinator for a grass-root program. Women-in-Health Developing 1996-Present. (e) Trainer of Village Health Workers/TBAs. (f) Spear headed legislative action to eradicate Harmful traditional practices affecting woman and girl child in Imo State. (g) Principal Public Health Lecturer in her Excellency's entourage every August meeting, (a women policy making meetings in the 27 Local Government Areas 2004-present) CONSULTANT TO THE FOLLOWING NGOS: Forward Africa in Nigeria. Women-in-Nigeria. Inter African Committee on Harmful traditional practices Imo state Branch. Trainer of Trainees on Hygiene/Sanitation/Hand Washing promotion and Community Management at State and grass root areas. Supervisor National immunization program in the state. Health Care field supervisor for Community Medical Care(COM Care) health agency U.S.A. 1/1/79-12/30/80 Presently Head of State Ministry of Health, Health Education Division as Deputy Director. ON THE JOB CERTIFICATED TRAINING/WORKSHOP Management of early childhood illnesses and care givers in the communities. Training workshop on HIV/AIDs voluntary counseling and testing 10/10-15/10/07. National Training of Trainers course on Hygiene and Sanitation Promotion and community management at Jos June 3-16th June 2007. National Workshop on adoption of developed manual income generation activities, 26th April-1st May 1997 Effective primary Health Care Management in Nigeria on TOT Training. POST HELD State Co-odinator-Woman-in-Health Development Program. Health Adviser to Nigeria Red Cross Association Imo State Chapter. Treasurer for American Universities Alumni Association Imo State Branch. Deputy director and Head of Health Education Division Ministry of Health Owerri. SUMMARY: Professional public Health Education with extensive experience in Health related project management. Demonstrated ability to motivate and work with people. Skilled in implementing various project program. CAPABILITIES INCLUDES Program supervision. Presentation Skills Superior ability to work with people. Exceptional ability to communicate with people. Strong sense of responsibility and excellent budget management. Always willing to learn and make adjustments necessary to perfect her capabilities.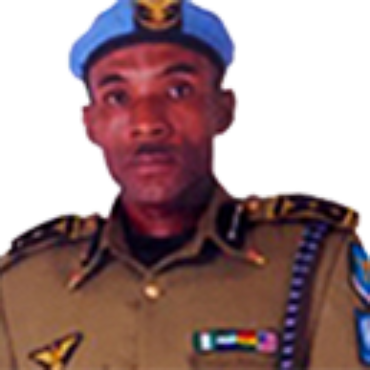 Mr. Akuwudike
Akwudike Kelvin Uzochukwu Date of Birth: 6th May 1969 Place of Birth: Umuikea Emeabiam Marital Status: Married Wife's Name: Evang. Elfrida E. Akuwudike State Of Origin: Imo State L.G.A: Owerri West Present Rank in Icofcc: Commander Position Held: Lagos State Commander/South West Zonal Commander Senior Pastor World Transfiguration Assembly Institution Attended Community School Umuekwune Imo State Fslc 1981 Davis Vocational College Atta-Ikeduru 1983-1988 Institute of Purchasing & Supply Management Lagos 1992-1993 Pentecostal International Bible Seminary Lagos 1994-1997 African Institute of Church Ground Lagos 1998 Zion Ministerial College and Seminary Lagos 1997-2000 Zion Institute of Chaplaincy Lagos 1999-2000 Qualification First School Leaving Certificate 1981 Royal Society of Arts 1 & 2 1987-1988 West Africa Examination Council (WAEC) 1989 Certificate Purchasing / Supplies 1992 Bachelor In Theology 1996 Masters Exegetical Theology 1997 Advanced Diploma- Church Growth 1998 Doctorate In Theology 2000 Certificate In Chaplaincy 2000 Working Experience/ Positions Accounts Clerk- Goldflakes Inter Ltd Lagos 1989-1991 Teacher- Township Comm. Institute Lagos Feb. 1991-Aug 1994 Banking / Credit Control Officer Jecon International Ltd Lagos Aug. 1991-1994 Tax/Creditor Control Officer John Edge Xcon Ltd- Lagos 1994-1995 Lecturer/ Registrar – Zion Ministerial College & Seminary 1998-2007 Instructor /Trainer- Divine Institute Of Chaplain. 2006-2007 Senior Pastor – World Transfiguration Assembly- Lagos. 1998- Till Date Ministerial Associations /Affiliations Jesus For The Nations Evangelical Associate South Africa United Christian Churches & Ministerial Association- U.S.A Pentecostal Fellowship Of Nigeria- Nig Church Growth International Network Christian Theologians Association- Nig Christioan Experience Born Again Scripture Union 1987 Baptied In November 3rd 1991 Prayer Warrior 1988-1990 Youth President- CPM Lagos 1993-1997 Prayer Warrior/Worship Leader 1996-1997 Students President PIBS 1996 International Secretary Jfn 2003- Till Date Ordination U. C. M. A Clevland In U.S.A July 2003 Ministered In Different Parts Of Nigeria, Africa, U.S.A Hobbeis Reading, Ministry And Helping People.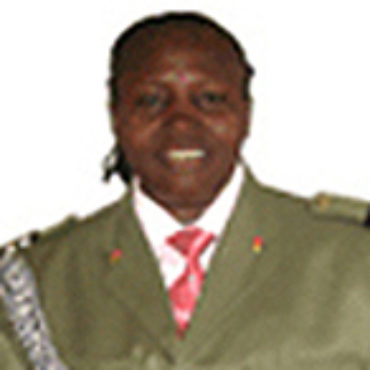 Mrs. Chioma Maduabuchi
NAME: Johnson Chioma Gloria Maduabuchi DATE OF BIRTH: 2nd October 1960 SEX: Female NATIONALITY: Nigeria RELIGION: Christian MARITAL STATUS: Married NO OF CHILDREN: Seven STATE OF ORIGIN: Abia State L.G.A: Umuahia North HOME ADDRESS: Umugasi Village P. O. Box 567 Umuahia Abia State PRESENT RANK IN ICOFCC: Abia State Commander. SCHOOLS ATTENDED WITH DATES: A. URBAN MISSION HILL SCHOOL 1969- 1973 B. ISINGWU COM. SCHOOL 1974- 1978 C. PLATEAU COLLAGE OF ADMINISTRATION 1979-1981 D. GOOD SHEPHERD SEMINARY UMUAHIA 1999-2000 EDUCATIONAL QUALIFICATION: FSLC 1973 W.A.E.C 1978 HND. PUB. ADIM 1981 BTH 2003 DOCTOR OF CIVILITY AWARD 2006 BASIC LEADERSHIP CERTIFICATE (AWIL) THE ACADEMY OF WORLD IMPACT LEADERS 2008 WORKING EXPERIENCE WITH DATE: Secretary- Federal Soil Conservation Sch. Kuru 1984 Principal Secretary- Federal University of Agriculture (College of Biological and Physical sciences – Umudike Abia State 1995 Methodist Evangelist –i/c. M.C.N. St. Paul's and St. Andrews Mbato Ofeme 1998-1999 I/c of Methodist Church Nig. Umuihe Umuopara Ct. All Saints Methodist Church Nig. Umuagu Umuhu Ct. 1999-2003 2003- President and founder – Multiplier Ministries Limited by Guarantee 2003 to date Community Woman Leader Umugasi Progressive Union 2005 to date REFEREES Doctor Bar. N.U. Chianakwalam Director Registry Co-operate Affairs Commission Abuja. H.R.H. Eze T. I. Okebalama Ihe I of Umuihe. Elder Uchenna Emezue Head of Service, Abia State Nigeria.